AUTOMA+ 2021 Networking Leaderboard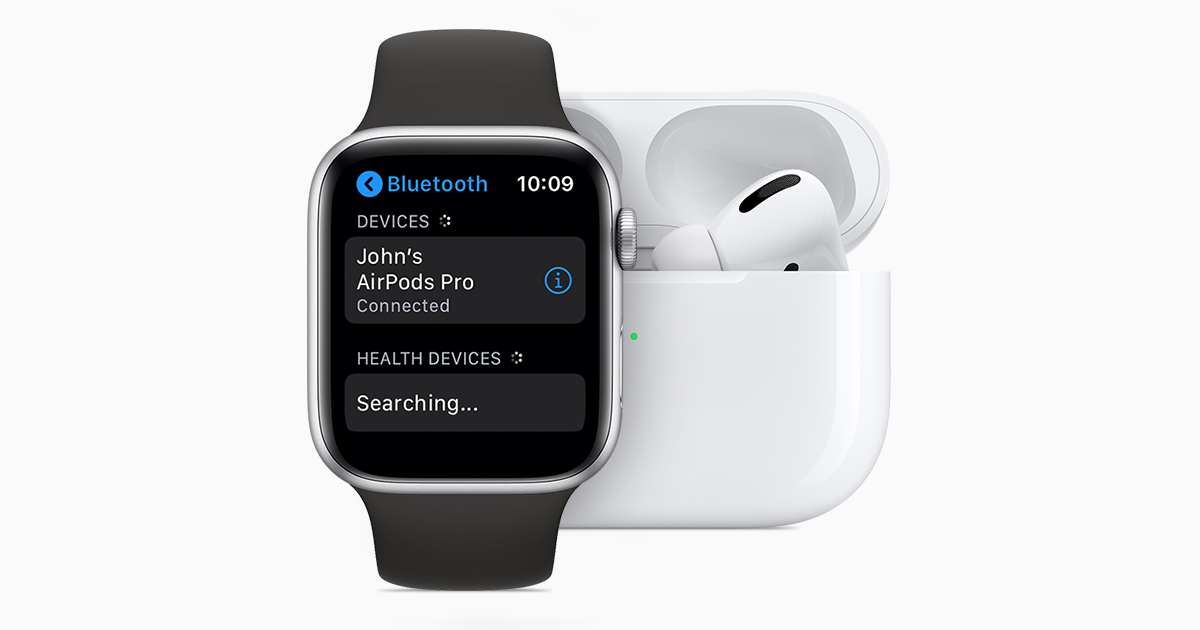 Top the leaderboard of the AUTOMA+ 2021 Congress! Boost your score by participating in Congress activities. Start more chats and video calls, visit more stands, join more sessions to win Apple AirPods Pro or Apple Watch Series 6!
HOW TO PARTICIPATE?
You will automatically earn points by:
Logging on to the BGS online

Сhoosing the sessions you want to attend

Attending the sessions

Visiting exhibitors' booths

Attending B2B meetings

Visiting sponsors' profiles

Starting a chat
The Prizes
Leader of Day 1 - AirPods Pro

Leader of Day 2 - Apple Watch Series 6
PLEASE NOTE: the Winners will be excluded from further Leaderboard competition.
The Winner of the Day will be announced at 16:00 PM (CET) on BGS Online Live Feed. Our manager will contact the winners regarding the prize delivery.

The Leaderboard will update approx. every 3 hours.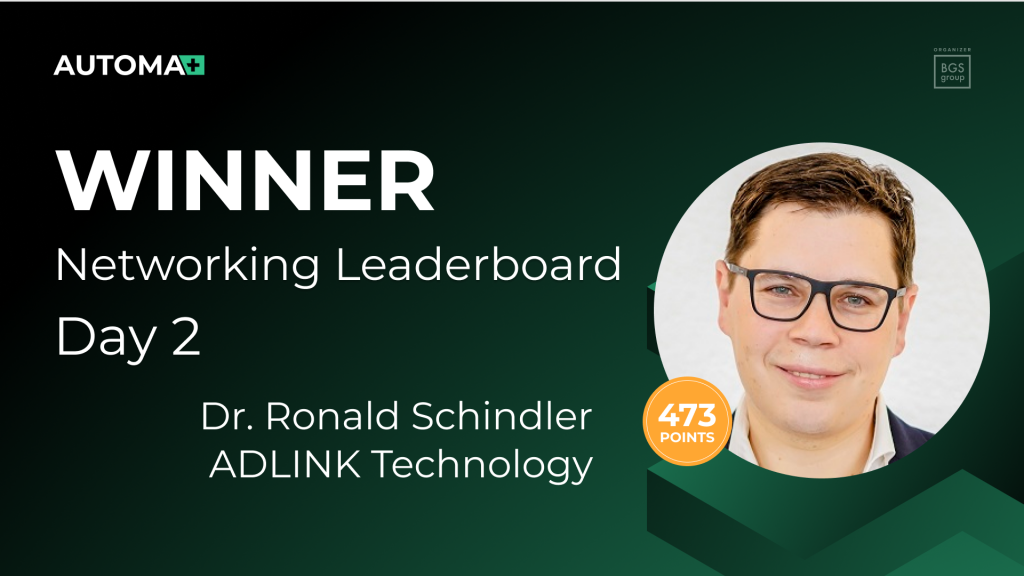 | | | |
| --- | --- | --- |
| # | Name | Points |
| 1 | Dr. Ronald Schindler | 473 |
| 2 | David Van der Auwera | 403 |
| 3 | Sandrine Remesy | 226 |
| 4 | Roman Brunner | 132 |
| 5 | Conor Slater | 123 |
| 7 | Raphaël Brunschvig | 117 |
| 8 | Balazs Gasz | 114 |
| 9 | Andreas Larsson | 100 |
| 10 | Michael Boss | 100 |
| 11 | Giuseppe Tussiwand | 95 |
| 12 | Carsten Glombeck | 91 |
| 13 | Dr Edouard Lucas | 68 |
| 14 | Sarah El-Eter | 66 |
| 15 | Yaron Ilan | 65 |
| 16 | Jonathan Okereke | 64 |
| 17 | Kari Kiviniemi | 61 |
| 18 | Przemek Grzywa | 61 |
| 19 | Frank Castrop | 60 |
| 20 | Amelie Fink | 59 |
| 21 | Hellen Chabunya | 54 |
| 22 | Nedret Akcaoglu | 50 |
| 23 | Paul Hughes | 50 |
| 24 | Magdalena Lukamowicz-Rajska | 49 |
| 25 | Dipok Hossain | 48 |
| 26 | Martin Riemer | 47 |
| 27 | Peter Brink | 46 |
| 28 | Frederic Kube | 44 |
| 29 | Anita Pioch | 43 |
| 30 | Albert Alonso | 42 |
| 31 | Airita Erte | 39 |
| 32 | Barbara Montaner | 39 |
| 33 | Athikom Kanchanavibhu | 38 |
| 34 | Jan-Michael Vogel | 38 |
| 35 | Miro Käch | 37 |
| 36 | Sara Cocomazzi | 37 |
| 37 | Milos Rajkovic | 35 |
| 38 | Sergi Coderch-Navarro | 35 |
| 39 | Irene Christen | 33 |
| 40 | Johann Weier | 32 |
| 41 | Szilard Nagy | 31 |
| 42 | Ester Simoes | 30 |
| 43 | Sevgican Gedik | 29 |
| 44 | Megan Morys-Carter | 28 |
| 45 | Igor Lankin | 27 |
| 46 | Mattias De Groe | 27 |
| 47 | Ernesto Durante | 26 |
| 48 | Istvan Agg | 26 |
| 49 | Ashlee Bessolo | 25 |
| 50 | Toralf Schnell | 25 |
| 51 | Hubert Viot | 24 |
| 52 | Admir Kulin | 23 |
| 53 | Chris Awai | 23 |
| 54 | Tom Gibbs | 23 |
| 55 | Karlis Betins | 22 |
| 56 | Robinson Kundert | 22 |
| 57 | Bodo Hubl | 21 |
| 58 | Jeroen Dille | 21 |
| 59 | Julien von Siebenthal | 21 |
| 60 | Manish Marotkar | 21 |
| 61 | Michael Naumov | 21 |
| 62 | Holger Weuthen | 20 |
| 63 | Pierre-Alexandre Chapon | 20 |
| 64 | Rachel Alexander | 20 |
| 65 | Tom Van De Putte | 20 |
| 66 | Bernadette Hosters | 19 |
| 67 | Raimar Goldschmidt | 19 |
| 68 | Claus Schramm | 18 |
| 69 | Judit Riera-Arnau | 18 |
| 70 | Kim Coumans-Heijnen | 18 |
| 71 | Salvatore Giorgio Cicirello | 18 |
| 72 | Abdul Manan | 17 |
| 73 | Mohamed Abdel-Hady | 17 |
| 74 | Stefan Voser | 17 |
| 75 | Tijn Rademakers | 17 |
| 76 | Burhan Gündüz | 16 |
| 77 | Carlos Martín Marí | 16 |
| 78 | Diego Casadei | 16 |
| 79 | Ray van Someren | 16 |
| 80 | Anna Erat | 15 |
| 81 | Lukas Lebiedzinski | 15 |
| 82 | Sandor Dr. Kulin | 15 |
| 83 | Sébastien Moussay | 15 |
| 84 | Adnan Muhammad | 14 |
| 85 | Mesut Deniz | 14 |
| 86 | Simon Minford | 14 |
| 87 | Steve Taylor | 14 |
| 88 | Bas Jansen | 13 |
| 89 | Cornelia Kruschel Weber | 13 |
| 90 | Daniel Kulin | 13 |
| 91 | David Badri | 13 |
| 92 | Igor Tomasevic | 13 |
| 93 | John Kaswija | 13 |
| 94 | Patrick Hitschler | 13 |
| 95 | Sven Harder | 13 |
| 96 | Tony Donolato | 13 |
| 97 | Emil Ackerman | 12 |
| 98 | Quentin Dutartre | 12 |
| 99 | Alexander Grüneberg | 11 |
| 100 | Ania Livrieri | 11 |
| 101 | Benoit Tas | 11 |
| 102 | Jules Fasquelle | 11 |
| 103 | Luca Borro | 11 |
| 104 | Maxwell Hobbs | 11 |
| 105 | Joan Gibert Fernandez | 10 |
| 106 | Marcus von Rechenberg-Paulsson | 10 |
| 107 | Mariarita Marabello | 10 |
| 108 | Roza Shakhidova | 10 |
| 109 | Sari Hopson | 10 |
| 110 | Sebastian Viertlmeister | 10 |
| 111 | Stefania Schino | 10 |
| 112 | Cedric Spaas | 9 |
| 113 | Danil Blinov | 9 |
| 114 | Dmytro Volkov | 9 |
| 115 | Gizem Ayan Çaylı | 9 |
| 116 | Karina Abramova | 9 |
| 117 | Mariam Shokralla | 9 |
| 118 | Mark Widdowson | 9 |
| 119 | Sonja Rüger | 9 |
| 120 | Tjidde Boers | 9 |
| 121 | Valentine Machiels | 9 |
| 122 | Wiro J. Niessen | 9 |
| 123 | Christopher Tournay | 8 |
| 124 | David Berlana | 8 |
| 125 | Ferran Fillat-Gomà | 8 |
| 126 | Jan Flament | 8 |
| 127 | Stefano Pozzi | 8 |
| 128 | Uwe-Eugen Rembor | 8 |
| 129 | Christopher Pithan | 7 |
| 130 | Jan Louagie | 7 |
| 131 | Lukas Geissmann | 7 |
| 132 | Markus Rosskothen | 7 |
| 133 | Mokhtar Omar | 7 |
| 134 | Piet Van de Steen | 7 |
| 135 | Alexandru Popa | 6 |
| 136 | Anders Aspaas | 6 |
| 137 | Dmitry Zenkov | 6 |
| 138 | Jesper Spoelder | 6 |
| 139 | Marcel Röske | 6 |
| 140 | Nina Šesto | 6 |
| 141 | Tom Heijnen | 6 |
| 142 | Barış Tuncer | 5 |
| 143 | Bengisu Ozarslan | 5 |
| 144 | Josef Schönhammer | 5 |
| 145 | Laia Martínez-Carreres | 5 |
| 146 | Matt Dugan | 5 |
| 147 | Prajeesh Radhamani | 5 |
| 148 | Rainer Zahradnik | 5 |
| 149 | Thomas Schuessler | 5 |
| 150 | Clara Comes | 4 |
| 151 | Evgeny Polovinkin | 4 |
| 152 | Ferran Rodríguez | 4 |
| 153 | Hamida Abdi | 4 |
| 154 | Johannes Weil | 4 |
| 155 | Jürg Wicki | 4 |
| 156 | Luca Caruso | 4 |
| 157 | Quynh Tu Nguyen | 4 |
| 158 | Solange Zoergiebel | 4 |
| 159 | Svein Yngvar Willassen | 4 |
| 160 | Elias Langenberg | 3 |
| 161 | Leigh-Anne Dell-Brown | 3 |
| 162 | Peter Hoheisel | 3 |
| 163 | Richard Ng | 3 |
| 164 | Rory Scrimgeour | 3 |
| 165 | Sandra Schweighauser | 3 |
| 166 | Yolima Cossio Gil | 3 |
| 167 | Adrian Curran | 2 |
| 168 | Erik Ekman | 2 |
| 169 | Fredrik Roxhage | 2 |
| 170 | Johan Gustafsson | 2 |
| 171 | Karin Edler | 2 |
| 172 | Karin Huber | 2 |
| 173 | Lisa Hartung | 2 |
| 174 | Usha Pandit | 2 |
| 175 | Özgür Pektaş | 2 |
| 176 | Angela Zubel | 1 |
| 177 | Erica Bonns | 1 |
| 178 | Fernanda Zaganelli | 1 |
| 179 | Kariem El-Kholy | 1 |
| 180 | Nuray Yurt | 1 |
| 181 | Revita Zanin | 1 |
| 182 | Sandra Giovanoli | 1 |
| 183 | Timo Baumann | 1 |
| 184 | Van Nghia Nguyen | 1 |
| 185 | Veronica Alonso | 1 |
| 186 | Vladimir Sokolov | 1 |
back to the news list